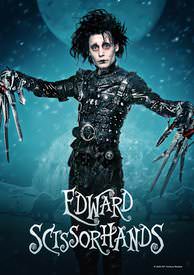 Edward Scissorhands HD VUDU/MA or itunes HD via MA
Edward Scissorhands (1990)
Screenshots from another edition of
Edward Scissorhands Blu-ray
An artificial man, who was incompletely constructed and has scissors for hands, leads a solitary life. Then one day, a suburban lady meets him and introduces him to her world.
For more about 
Edward Scissorhands
 and the Edward Scissorhands Blu-ray release, see 
Edward Scissorhands Blu-ray Review
 published by PeteR on November 19, 2007 where this Blu-ray release scored 
3.0
 out of 
5
.
Director: 
Tim Burton
Writers: 
Caroline Thompson
,
Tim Burton
Starring: 
Johnny Depp
,
Winona Ryder
,
Dianne Wiest
,
Anthony Michael Hall
,
Kathy Baker
,
Robert Oliveri
Producer: 
Denise Di Novi
---
We Also Recommend